ibis Paint X
6.1.3
Drawing App – Simplifying Digital Drawing
If you have a passion for drawing and want to create illustrations on your phone then this drawing app is a must-have for you. ibis Paint X is a cool app that gives you the chance to draw anything you like on your Smartphone by offering a variety of digital drawing tools. It enables you to transform your phone's screen into a canvas and then paint a picture straight from your animations using your fingers. You have various pens available to you with which you can create any kind of drawings with consummate ease. There are a ton of options and tools on offer which can help you in enhancing your illustrations. You are even offered tutorial videos to see how this drawing app works.
ibis Paint X has an intuitive user interface which in combination with its simple design and layout makes drawing an easier proposition for everyone. However, you might find the number of tools and options available to you in this drawing app a bit too overwhelming in the beginning. But, there is no need to worry. At each step of the drawing process, you will be provided instructions that will help you in knowing which tool serves which purpose. If you still aren't clear about the usage of some tools then you can view tutorial videos available on the app's YouTube channel. It will clear things up for you. Once you know how the app's tools work, you would need no help in utilizing the tools of this app to your advantage.
This drawing app offers a variety of pens to you for creating your masterpieces. Each pen has a different thickness and can be used for drawing different shapes and illustrations. You can draw on the screen with the pen either by using your fingers or by using a stylus. However, you need to make sure that the stylus is compatible with your device. Aside from pens, there is an option provided in the app to add layers to your illustrations as well. This helps you in adding some complexity to your drawings and making them even more beautiful. Adding and managing the layers is simple enough. There is a layers icon located at the base of the screen which opens a tab in which you can manage the layers of your drawing.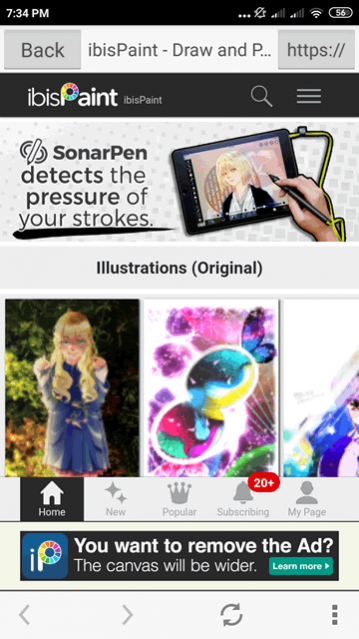 ibis Paint X gives you the opportunity to record videos of your drawing process too. This ensures that you can share your drawing techniques with others. Similarly, you can take inspiration from the work of others by watching the videos that they have shared with the community. Also, you can download, like or comment on the artwork shared by the other illustrators on the app's website. However, you will have to sign in using your Facebook or Twitter accounts to share your opinions about an illustration. After signing in, you can also share your drawings on your page. If your drawings are good, they will be displayed on the home page of the drawing app.
Features:
Intuitive user interface
Simple design and layout
Lots of drawing tools on offer
Add layers to bring complexity to the drawing
A large library of materials to choose from
Import photos from your phone
Record videos of your drawing creation process
Take inspiration from drawings of others
Watch videos posted by others to find out their drawing method
Tutorials available on the app's YouTube channel
Conclusion:
ibis Paint X is an app that is marketed towards people who love drawing and want to make illustrations on their smartphones. It provides them a wide range of drawing tools to give shape to their imagination and create beautiful drawings and illustrations. It is an excellent drawing app to have on your phone.
---
Add a review
Tell us your experience with
ibis Paint X
6.1.3
RELATED PROGRAMS
Our Recommendations
---
---
---
---